SIOUX FALLS CONCRETE INSTALLATION AND REMOVAL
Residential | Commercial | Agricultural

Absolute Waterproofing and Concrete is your complete residential, agricultural and commercial concrete contractor in Sioux Falls for foundations, slabs, driveways and patios. We specialize in concrete repair, removal and installation throughout Sioux Falls. Our professional crew has the equipment and experience to remove large concrete slabs and replace with new slabs including proper drainage.

We always strive to be the best in our industry for concrete removal, installation and repair in Sioux Falls. We believe that being fair and honest to our customers and suppliers is the key to building strong business relationships. Our approach to business is our commitment to safety, comprehensive project management and maintaining high standards on every project.

Custom concrete stamps and finishes have become a very popular choice for homes and businesses today. We offer a great selection of colors and patterns to choose from. Our crew will install any custom requests to meet your needs. From the beginning of project to completion, AWC is your comprehensive concrete contractor in South Dakota.
Foundations
Tear Out & Replace Concrete Slabs
Decorative Concrete
Stamped Concrete Patios
Overlays on Existing Concrete
Driveways & Walkways
Foundation Wall Repair
Sioux Falls Concrete Installation and Removal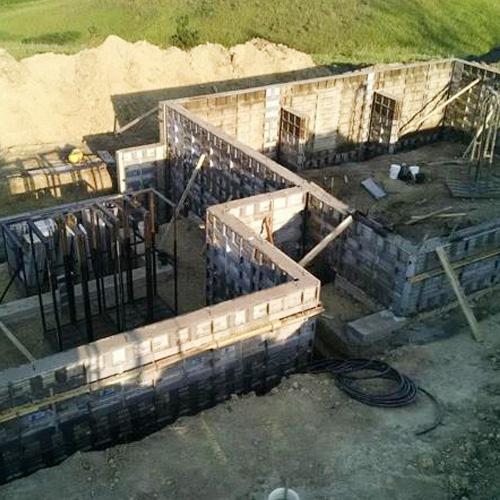 SIOUX FALLS WATERPROOFING CONTRACTOR
Residential | Commercial | Agricultural

When building a home or commercial building it is extremely important to install proper drainage to prevent water from entering the foundation and basement. Absolute Waterproofing and Concrete specializes in installing effective drainage systems and vapor barriers in Sioux Falls. Whether an existing home needs to have basement waterproofing installed or new construction drain tile, we have the experience and equipment to properly install drain tile, fluid/sheet, vapor barriers and weather barriers to protect your investment. If you have been having water leak into your basement, contact AWC for a free estimate to permanently solve your water problem!
Drain Tiling
FLUID/SHEET Waterproofing
Vapor Barriers
Weather Barriers